In 1885 Riversdale was a booming community. The railway ran through the township and it was regarded as the hub and agricultural centre of the plains.
Gee's Hotel was on one corner of Main Street and a new licence was granted for a hotel on the other corner with little more than the width of the side street between them.
The new two-storied wooden hotel was built and called the Railway Hotel. After several prior licensees in 1887 William Kelly purchased the Railway hotel. On 17th March 1918, the eve of the St. Patrick's Ball, a fire completely destroyed the hotel and much of the Riversdale business centre. The smoke cold be seen from Balfour 18km away and with the lack of firefighting equipment available at the time nothing could be done to save any buildings.
In 1920 the current building was built on the old hotel site.
Eventually (some time after 1937) the bar was closed but William Kelly remained living in the building until he died in November, 1950. William's daughter Linda remained at the hotel until just before her death.
The building remained empty until 10th September 1974 when the Waimea Christian Trust purchased it and it was renamed The Hub.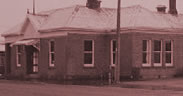 It has been since used for numerous things including Youth Group Meetings, The Riversdale Arts and Crafts and a craft shop.
In 2001, to make The Hub suitable for use and occupation an extensive renovation project was undertaken. This is how an old hotel got a new lease of life and is now the retreat and training centre The Hub.